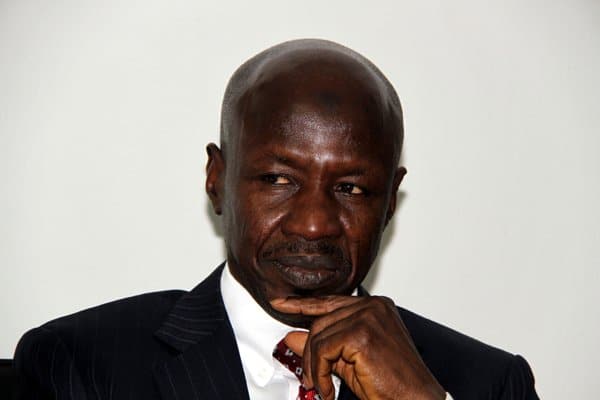 The former acting chairman of the Economic and Financial Crimes Commission (EFCC), Ibrahim Magu, has been accused of mismanaging N431 million meant for security vote.
Naija News reports the presidential panel set up to investigate Magu revealed this in the final report submitted to President Muhammadu Buhari in November 2020.
It is understood that the final report has now been forwarded to the office of the Secretary to the Government of the Federation and a panel to produce the white paper will soon be set up.
The panel, headed by the former president of the Court of Appeal, Ayo Salami, was set up to probe the EFCC from May 2015 to May 2020.
In the final report, the panel said the former EFCC chairman could not account for the security vote allocated to his office between 2015-2020.
The panel claimed that Magu used part of the N431 million to pay for electricity bills in his personal farm located in Karshi Development Area of Nasarawa State.
The Salami panel also accused Magu of spending part of the funds to pay for Cable television subscriptions in his private residence in Karu area of the state.
The report reads: "The details of the budget, fund releases and expenditure with regards to the management of security/information fund by the acting-chairman of EFCC, Ibrahim Magu, show that a total sum of N830 million was appropriated as security/information fund for the office of the executive chairman of EFCC for the fiscal years 2015-2020.
"The sum of N431 million was released by the finance and accounts department of the EFCC as requested by the office of the executive chairman and approved by the suspended Ag. chairman of the EFCC during the period November 2015 to May 2020.
"The suspended acting chairman incurred extra-budgetary expenditure of N17 million during the 2019 fiscal year. The amounts (N431m) released to the office of the executive chairman from November 2015-May 2020 could not be properly accounted for by the acting chairman.
"The analysis of some of the expenditures revealed that the funds were misapplied to service expenditure that had no bearing with security/information activities of the EFCC. These include payments for electricity bills for his personal farm located in Karshi Development Area, Nasarawa state."
The panel also recommended that Magu should be investigated and prosecuted for failing to account for the security votes.
In addition, the panel stated that the anti-graft agency used its staff multi-purpose cooperative society to warehouse N80 million of public funds drawn from the EFCC overhead cost allocation on the approval of Magu.
According to the report, N50 million was refunded on September 30, 2020, while the remaining N30 million was unrecovered.
The report also detailed the poor exhibit management system adopted by the EFCC and how forfeited assets scattered across the country were left to depreciate and decay.
This article was originally published on Naija News