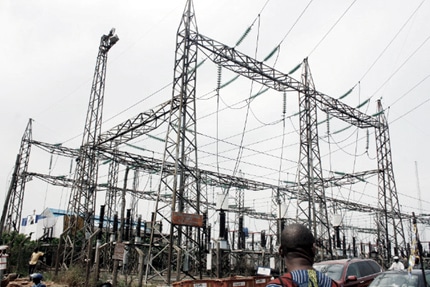 Nigeria has been thrown into a nationwide blackout as electricity workers in the country commenced a strike on Wednesday to push the federal government to respond to their demands.
The Transmission Company of Nigeria (TCN) in a statement by its spokesperson, Ndidi Mbah confirmed that the electricity workers under the aegis of the National Union of Electricity Employees (NUEE) switched off several 330kV transmission lines and 33kV feeder lines on Wednesday.
The union members switched off major power substations across the country, Naija News reports.
The TCN statement reads: "The incident occurred at 15:01Hrs, today after several 330kV transmission lines and 33kV feeder-lines across the power system network had been switched off by the union members, resulting in generation-load imbalance and multiple voltage escalations at critical stations and substations."
"Regrettably, this is coming weeks after we had emerged from a hectic grid management regime, precipitated by the paucity of generation, which we grappled with for a couple of months."
The TCN however added that it is already negotiating with the affected union members on how to resolve the situation.
Why Electricity Workers Are On Strike
Naija News understands electricity workers under the aegis of NUEE are protesting the non-payment of outstanding arrears owed to former workers of the defunct Power Holding Company of Nigeria (PHCN), the suspension of conditions of service and career path for workers among others.
Power Disruption
The Ibadan Electricity Distribution Company (IBEDC) in a statement on Wednesday to its customers had warned about the pending blackout.
It disclosed that there is bound to be power disruption due to the strike action by electricity workers affecting all power stations controlled by the TCN.
This article was originally published on Naija News