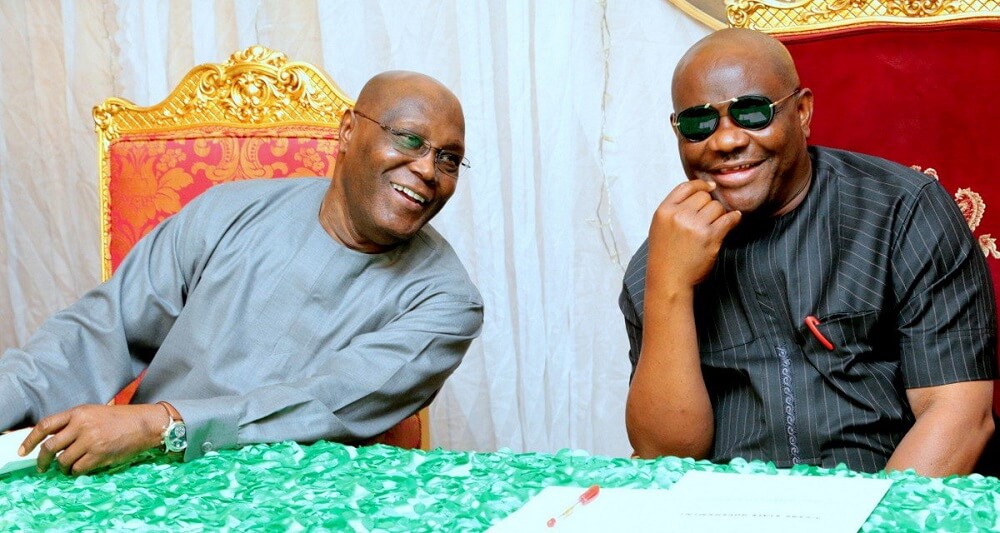 In a bid to end the rift in the Peoples Democratic Party (PDP), former Vice President Atiku Abubakar may be considering giving Governor Nyesom Wike of Rivers State a "crucial and key role" in his campaign ahead of the 2023 general elections.
It was gathered that this is following indications that the governor's camp has soft-pedaled on its insistence on the resignation of the national chairman of the PDP, Senator Iyorchia Ayu.
Naija News reports that Atiku and Wike had been at loggerheads with each other over the refusal of Ayu to resign after promising to do so if the party produces a presidential candidate from the north.
Ayu had pledged to "step down after a presidential candidate emerges and happens to be in the north."
"Luckily, party positions we have agreed are not tied to executive and legislative positions. However, I'm a very democratic person, and I will do everything to promote the interest and image of my party," he had said.
"If the PDP says I should step down after a presidential candidate emerges and happens to be in the north, I will be very glad to do so because what we want is to take over the government and run it in the interest of Nigerians. I'll sacrifice anything to ensure that my party wins."
But the PDP chairman has changed his stance, refusing to resign and insisting on serving his four-year tenure.
"The political relevance of Governor Wike cannot be wished away. He has both the reach and clout to help reverse the fortunes of the PDP from an opposition party to a ruling party in the 2023 presidential election. Not only is he relevant, but he's also a loyal party member. Both the party and Atiku are aware of that. I can assure you that Wike will help drive the party to victory," a party chieftain told Daily Sun.
Multiple sources revealed that those in Governor Wike's camp who insist on Ayu's resignation were now reviewing their position on him vacating his seat for a southerner.
"The truth of the matter is that we want to win election. So, there are certain things we want to consider before we push harder. They will only have to sort out some other grey areas," one of the sources said.
Another source added that the demand for his resignation has "actually been dropped by the Wike group. The next meeting for negotiation will, among other things, determine how he would be involved in the campaign has been scheduled for Friday."
This article was originally published on Naija News