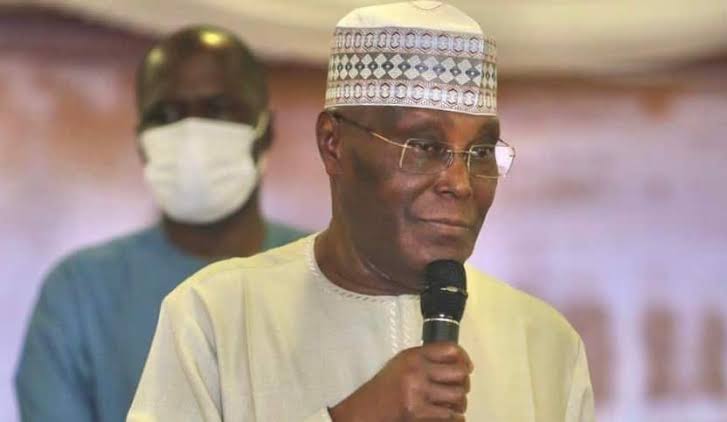 Former Vice President, Atiku Abubakar has slammed the National Chairman of the All Progressives Congress (APC), Abdullahi Adamu, over his comment on the Federal Government's borrowings.
Naija News reports that Adamu during an interview on Trust Television on Monday justified the Muhammadu Buhari-led administration's recurrent need to borrow.
He noted that the federal government can borrow from here to eternity because loans are the source of the country's infrastructure.
Adamu argued that countries like the US and the UK borrow funds from international financial institutions to meet their needs and Nigeria is no exception.
Reacting in a statement on Tuesday night by his media aide, Paul Ibe, Atiku said the statement made by the APC national chairman is reckless and unwise.
The Peoples Democratic Party (PDP) presidential candidate said it is disheartening that Adamu was still advocating reckless borrowing amid the economic challenges facing the nation.
Atiku said despite his earlier warnings against borrowing, Adamu was still talking about mortgaging Nigeria's future with borrowings.
The statement reads: "Nigerians will recall that in one of his articles, titled: 'Endless Borrowing Will Lead to Endless Sorrowing' the Wazirin Adamawa, foretold the economic disaster we are in today.
''He not only drew the government's attention to the economic dangers but also suggested ways to mitigate them. The APC-led administration ignored him and we are all suffering for it today.
''In his founders day lecture at the American University, Yola, almost three years ago, quoting from the American, John Quincy Adams, who said, 'there are two ways to conquer and enslave a nation. One is by the sword. The other is by debt'''
''Atiku noted that the American may have very well been referring to Nigeria of the last three years because Nigeria's debt serving has now outweighed its income. No nation runs its economy like this. 'APC owes Nigerians a duty to at least, stop compounding our woes with additional borrowing to feed consumption.''
This article was originally published on Naija News