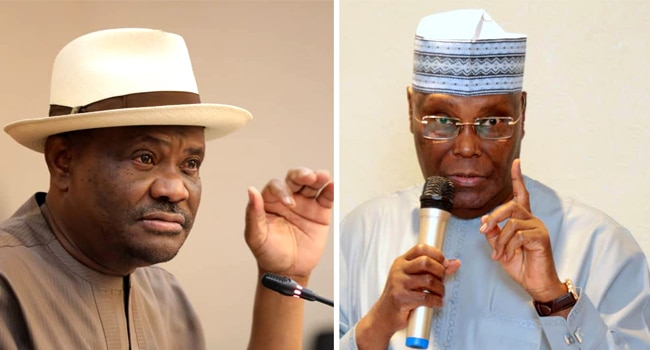 The position of the Peoples Democratic Party (PDP) National Chairman, Iyorchia Ayu has been threatened, ahead of the peace talks between Rivers State Governor, Nyesom Wike's team and representatives of the presidential candidate, Atiku Abubakar.
Naija News earlier reported that the reconciliation meeting originally scheduled to hold on Monday was later postponed to Friday by the Atiku camp.
However, both camps are yet to agree on a venue for the meeting to settle the rift among aggrieved parties.
Ayu's Resignation
This publication gathered that Wike's team have insisted on the resignation of Ayu as a condition for the talks to proceed but Atiku's delegation had vowed to reject the call.
A source in Wike's team quoted by Punch said the PDP national chairman cannot be trusted as he failed to keep to his words on the emergence of a Northern presidential candidate.
A member of Wike's team, who spoke on condition of anonymity, said, "Ayu has shown that he cannot be trusted. He once said that once a presidential candidate emerges from the North, he will resign. Now, he cannot honour his own words. Can such a man be trusted?
"Ayu should leave in the interest of equity and fairness. He has to go before we agree to hold the reconciliation meeting. He is not an unbiased umpire. He worked for Atiku."
Uncertainty
There were strong indications that both sides are yet to agree on the venue of the Friday meeting.
While Atiku's camp claimed that both parties agreed to hold the meeting in Abuja, Wike's camp said no one in the governor's team was aware of the decision that the meeting would hold in Abuja.
Wike's men said if Ayu resigned in the interest of the party, the reconciliation meeting would be held in no other place than Port Harcourt.
A source in Wike's camp said: "In respect of the meeting to settle the disagreement between Wike and Atiku, and as a counter to the statement that an agreement had been reached for the meeting to be held in Abuja on Friday, we are stating categorically that the meeting will be held in no place other than Port Harcourt.
"That is our position; we are unaware of the agreement that informed the claim that the reconciliation committee will meet in Abuja on Friday".
This article was originally published on Naija News