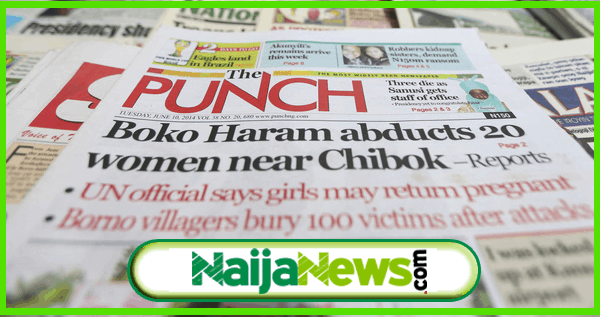 Naija News looks at the top happenings making headlines on the front pages of Nigeria's national newspapers today Friday 19th August 2022.
The PUNCH: The Federal Government spent nothing less than N13.17tn between 2016 and March 2022 under the regime of the President, Major General Muhammadu Buhari (retd.), an analysis by The PUNCH has revealed.
Findings by The PUNCH also showed that during the same period, the government budgeted N4.4tn for education amidst constant criticism by stakeholders, including the Academic Staff Union of Universities, about the low funding of the sector.
---
The Guardian: A high-level meeting of the 36 state governors with President Muhammadu Buhari on Wednesday, primed to draw out some far-reaching and drastic measures to tackle the economic hardship that has afflicted Nigerians under this administration, turned out to be an anti-climax.
---
Vanguard: Workers at the Transmission Company of Nigeria (TCN) have suspended a strike that began on Wednesday and caused a nationwide blackout. The grid capacity dropped to zero by 5:00 p.m. (1600 GMT) from 4,100 megawatts (MW) early on Wednesday, according to TCN.
---
The Nation: The National Chairman of the ruling All Progressives Congress (APC), Senator Abdullahi Adamu, has reaffirmed that the same faith presidential ticket by the party is the best thing Nigerians need at the moment. Adamu, who spoke with BBC Hausa Service, also said that the same faith ticket is the best strategy for the governing party to win the forthcoming general elections.
---
Daily Trust: The Minister of Education, Malam Adamu Adamu, has said the implementation of the federal government 'no-work-no-pay' policy is the only condition delaying the truce with the Academic Staff Union of Universities (ASUU). He said this Thursday while featuring at the 47th Session of the State House Briefing organised by the Presidential Communications Team at the Presidential Villa, Abuja.
Thank you for reading, that is all for today, see you again tomorrow for a review of Nigerian newspapers.
This article was originally published on Naija News