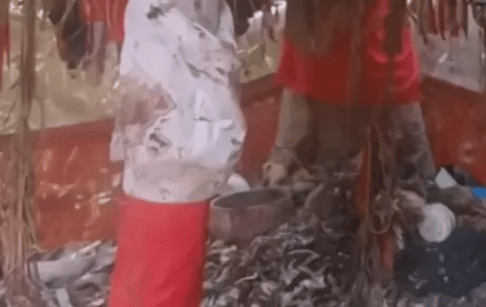 The Edo Police Command has released more details on the dry dead bodies found in a ritualist den along the Asoro slope off Ekenhuan Road in the Usebu quarters of Benin City.
Speaking to BBC Pidgin, the Spokesperson of the police command, Chidi Nwabuzor said there is a likelihood that the dead bodies came from the mortuary as they were identification documents found on them.
"The corpses had identification documents that were assigned to them, which indicated they were brought from the mortuary," Nwabuzor said.
He said that the dead bodies found include 15 males, 3 females and 2 children.
Nwabuzor added that people discovered the building and then informed the police about the illegal activities going on there.
Sacrificial items which include, animal's blood and other items were found behind the house.
Nwabuzor said one of the suspects told the police that the owner of the suspected ritual shrine had worked as a mortician at the hospital, hence the access to many dead bodies.
He said Police are currently looking for the man and would speak with the mortuary where they allegedly brought the dead bodies from.
In the statement released, the police said three suspects from the shrine were arrested while others ran away.
The police added that intensive efforts is presently on-going to apprehend the runaway suspects.
This article was originally published on Naija News