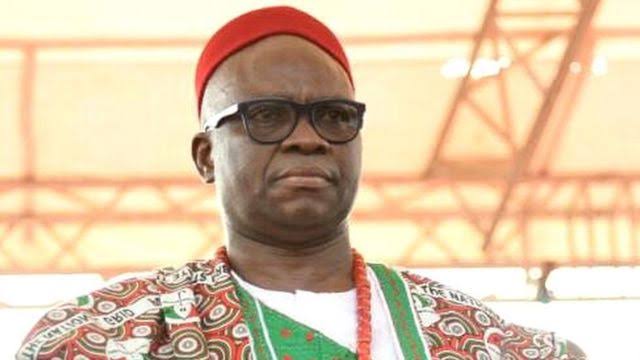 The Acting Chairman of the Peoples Democratic Party (PDP) in Ekiti, Lanre Omolase has alleged that beneficiaries of former Governor of Ekiti state, Ayo Fayose are plotting his downfall.
Omolase,  while speaking in an interview with The PUNCH, shared his view on the Ekiti State gubernatorial election which took place two months ago and produced Biodun Oyebanji of the ruling All Progressives Congress (APC)  as the winner of the election.
Naija News reports that Oyebanji polled 187, 057 votes; Segun Oni of the Social Democratic Party (SDP) polled 82, 211 and Bisi Kolawole of the PDP polled 67,457.
Speaking on the reason why some members of the PDP believed that Fayose played a pivotal role in the loss of the party, Omolase said, "Ask them, how many of them contributed a penny to the election? The same Fayose that they are criticising today used his resources to prosecute the election right from the time of the congress to the primary to the real election. The man (Fayose) worked very hard with full determination to win that election.
"But the people thought that if Bisi Kolawole won the election, it would be an extension of Fayose's government, forgetting that Fayose had nothing to ask from Kolawole as he had told us."
Speaking further,  the PDP chieftain insisted that the 'pull-him down syndrome' was a major problem in the party.
He said: "Until the Ekiti PDP desists from the "pull-him down syndrome", there may not be headway. We cannot be all equal. In a household, we have a father, a mother, and we have seniority. Tell me of a state in Nigeria where we do not have a leader, as far as the PDP is concerned in Ekiti, Fayose is a leader and a two-term governor. Is Tinubu not a leader in Lagos? He was governor of Lagos between 1999 and 2007.
"Since that time, he has been producing governors in Lagos State and I have not seen any of the governors who have challenged Tinubu to step aside. I have never seen Osun people tell former Governor Olagunsoye Oyinlola to step aside. Bode George is still doing politics in the PDP in Lagos—why in Ekiti? What is wrong with us that we cannot work together? Those people who are crying foul today are the same people who have benefited immensely under Fayose's leadership.
"The moment another person is developing, they will develop cold feet. It is then that Fayose is no longer good, but when they were benefiting, Fayose was good. When Fayose picked Olusola-Eleka for the governorship, former minister Adedayo Adeyeye was not happy. He left the party. When Kolawole was picked, Olusola-Eleka was no longer happy. That was what I meant when I said unless Ekiti PDP desists from the 'if it is not me, it must not be another person syndrome.
"The moment they are benefiting, Fayose is good. The moment it is not their turn, Fayose is no longer good. I have never seen Fayose struggle for another position with anybody since he left office. He has always demonstrated the leadership style of a righteous and determined leader."
This article was originally published on Naija News