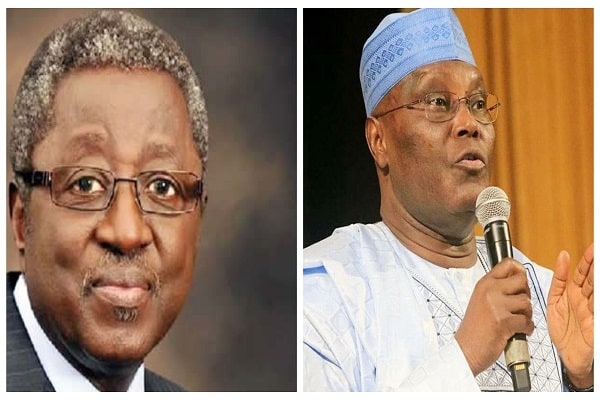 Former Plateau State Governor, Jonah Jang has urged the presidential candidate of the Peoples Democratic Party (PDP), Atiku Abubakar to reconcile with Rivers State Governor, Nyesom Wike ahead of the 2023 polls.
Jang made the call on Saturday, warning that failure to have Wike and his team pacified might negatively affect Atiku's chances at the 2023 presidential election.
The former Governor cautioned that ignoring Wike and his team might be a wrong political move but having them on his side will guarantee victory for Atiku and the PDP in the 2023 election.
Naija News reports Jang made the submission in Rivers State during the flagging off of the construction of Omagwa internal roads in the state.
He said: "I want to call on our presidential candidate, Atiku Abubakar, to close ranks with all members, particularly members of your (Wike) group of which I'm proudly one . Doing this will guarantee victory in 2023 general elections.
"These men and women, as I have said, worked hard to build this party and they cannot just be wished away overnight. We need to come together, settle our differences by recognising that you need each and every one of us for you to win the general election."
You Are Doing Well
Jang went ahead to commend the developmental efforts of Wike in Rivers State despite the worsening economic situation in the country and globally.
He said: "At this point, in our nationhood, Nigeria is down with inflation that rates over 18 per cent. Foreign reserves are dwindling by the day, and external debts are at high time.
"We have no infrastructure to show for it. No commensurate economic growth. But here we are, on the 20th day of August 2022, in the Peoples Democratic Party administration in River State, celebrating good governance in the twilight of this (Wike) administration."
This article was originally published on Naija News