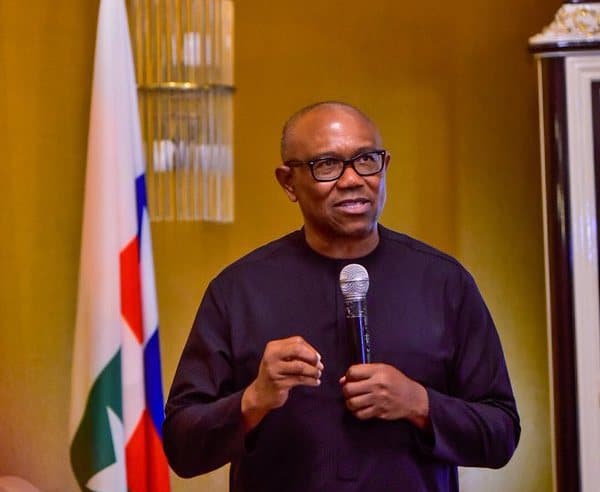 The Labour Party (LP) presidential candidate, Peter Obi, has identified certain areas that should be tackled to ensure that Nigeria's economy becomes better.
Obi explained that investment in intangible assets such as education and power are critical to boost in the economy.
Obi said this on Monday at the 2022 Annual General Meeting of the Nigerian Bar Association at the Eko Hotels, Lagos.
According to him: "What we need to do is the two most intangible assets: security; and law and order.
"Provide a conducive environment to attract investors, then education and power. The economy is driven by these intangible assets."
The former governor of Anambra state spoke alongside the Peoples Democratic Party's presidential candidate, Atiku Abubakar; All Progressives Congress vice-presidential candidate, Kashim Shettima; amongst others.
We Will Replicate What Tinubu Did In Lagos State – Shettima
Kashim Shettima has vowed that he and Asiwaju Bola Tinubu will hit the ground running if Nigerians vote for them in 2023.
He said both of them as Governors of Borno and Lagos States respectively recorded massive developmental feats and they will replicate in Nigeria.
Naija News reports Shettima made the submission on Monday in Lagos State, at the general conference of the Nigerian Bar Association (NBA) in which he represented the APC presidential candidate, Bola Tinubu.
Urging Nigerians to 'follow the man wey know the road,' Shettima boasted that he built some of the best schools in Borno State as Governor when insecurity was plaguing the state.
In his words, "Nigerians have the capability to see through the worn-out rhetoric and sophistry of pretentious politicians."
"Nigerians should follow the man wey know the road. From day one, we will hit the ground running. We'll promptly address the issue of the economy, ecology, and security.
"And we have the antecedents. I built some of the best schools in Nigeria. Go to Borno and see wonders; you will never believe that it is a state in a state of war.
"So, we are going to replicate our achievements in Lagos, in Borno and some of the frontline states so that our nation will be a better place.
"The fundamental issue is pure leadership."
This article was originally published on Naija News