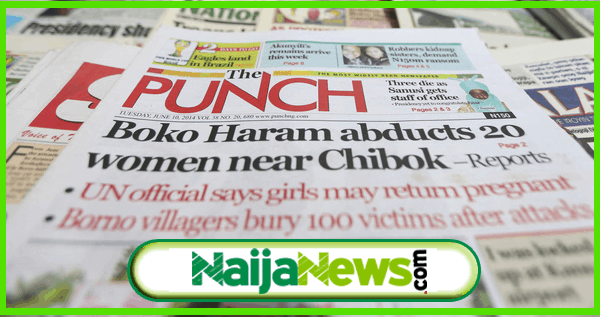 Naija News looks at the top happenings making headlines on the front pages of Nigeria's national newspapers today Tuesday 23rd August 2022.
The PUNCH: Presidential candidates of the Peoples Democratic Party, Atiku Abubakar and the Labour Party, Peter Obi, on Monday flayed the Federal Government over the insecurity and economic crisis confronting the nation, stating that Nigeria possessed all the negative indices that qualified it as a failed state. The two candidates unanimously agreed that 2023 is Nigeria's decisive year, noting that the election is critical to the country's existence.
---
The Guardian: The yearly general meeting of the Nigerian Bar Association (NBA), which opened yesterday in Lagos State with the theme: 'Bold Transitions', offered the leading presidential candidates the platform to share their 'bold visions' for 2023, signposting what to expect as campaigns officially begin next month.
---
This Day: The presidential candidates of the Peoples Democratic Party (PDP), Alhaji Atiku Abubakar, Labour Party (LP), Mr. Peter Obi as well as the Vice Presidential candidate of the All Progressives Congress (APC), Senator Kassim Shettima, yesterday graced the ongoing Nigerian Bar Association Annual General Conference (NBA-AGC) in Lagos, where they respectively decried the state of the country and spoke passionately about their plans to reset the country and address most of its socio-economic challenges.
---
The Nation: Presidential candidates of the All Progressives Congress (APC) Asiwaju Bola Tinubu, Peoples Democratic Party (PDP) Atiku Abubakar and Labour Party (LP) Peter Obi yesterday rolled out their plans on the economy and insecurity, two of the most critical problems confronting the country.
---
Daily Trust: There are strong indications that importers of used vehicles also known as Tokunbo have now resulted in the importation of accidented cars following the astronomical rise in the cost of imported second-hand vehicles popularly known as Tokunbo.
Thank you for reading, that is all for today, see you again tomorrow for a review of Nigerian newspapers.
This article was originally published on Naija News