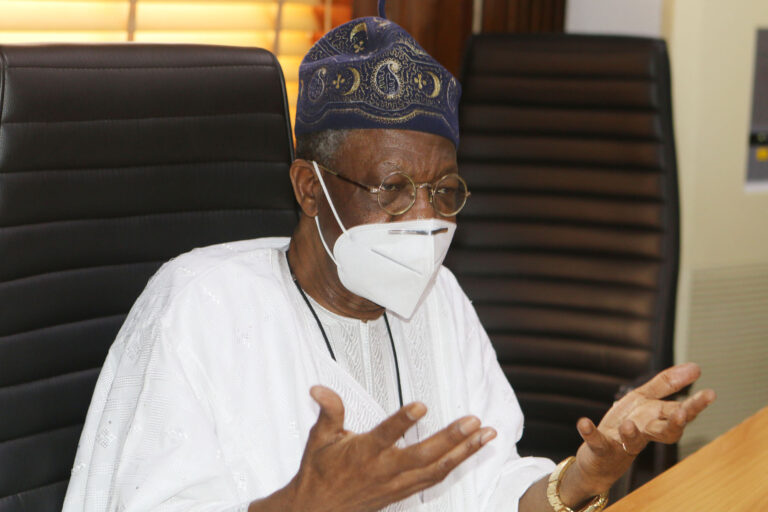 The President Muhammadu Buhari-led government is working on fixing the pending issues on the foreign exchange belonging to international airlines currently trapped in Nigeria.
Minister of Information and Culture, Lai Mohammed, stated this while inspecting the new terminal of the Murtala Muhammad International Airport, Lagos on Monday.
Mohammed also said the newly completed Terminal Two of the Lagos airport had capacity to process 14 million passengers per annum.
The Managing Director of the Federal Airports Authority of Nigeria, Capt. Rabiu Yadudu, took the minister and his entourage on a tour around the new terminal.
The Minister,  while speaking on the concerns by foreign airlines operating in Nigeria, said, "On the trapped funds, I can tell you that the relevant authorities are working hard on that issue."
Mohammed also stated that the new international terminal was not built to replace MMIA's terminal one, but to complement it.
He said, "That is why we were told that you could check in at one terminal and board at the other, so there is a handshake between the two terminals. It was the first terminal added to the original terminal since it was built some 30 years ago.
"The Terminal Two project started in 2013 and was completed by the present administration in 2022 under a bilateral agreement with the People's Republic of China. No administration in the history of Nigeria has done this much, especially at a time of scarcity of resources."
Mohammed also disclosed that over 10,000 direct and indirect job opportunities had been created in the new terminal.
He said the edifice, replicated in Abuja, Port-Harcourt, Enugu and Kano airports, was a testament to the achievements of the Federal Government in infrastructure development.
Speaking on the facilities and fittings in the terminal, the minister said, "I must confess it was an exhilarating experience comparable to what obtains anywhere in the world.
"On the air bridge ramp and the interface, one of the things the terminal manager told us is that not only is this airport in use but you can actually board your flights and check-in here. You can arrive in one terminal and pick your luggage in another terminal and this has taken care of the issue of interface between the two terminals.
"I was here 40 years ago when the first terminal was inaugurated. There is a time between the inauguration of an airport and when the airport becomes operational. You know aviation is unforgiven of any mistake."
He added, "So we need to test-run and be extremely certain that every equipment is working optimally. The beauty of it is that this airport has become operational. You can come in here and continue to various parts of the world. When the old airport was inaugurated, it took quite a while for it to become operational.
"The new international terminal is not to replace the old one but to complement it. It is gradually, and very soon this airport will be very busy. You can see that terminals are not used only by airlines. We have restaurant operators, banks, foreign exchange operators, etc and you have to screen people over and over again before it becomes operational."
This article was originally published on Naija News