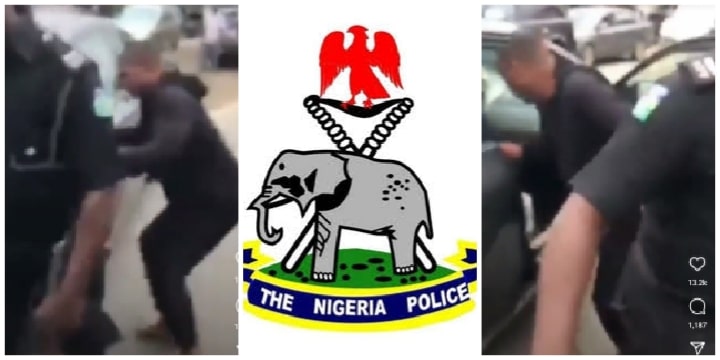 A viral video has shown the moment an unidentified man allegedly tried to arrest a police officer after he disobeyed traffic Laws.
According to the video shared by Goldmynetv, the man who disobeyed traffic rules fearlessly began to drag the police officer by the trousers.
The security personnel however did not retaliate and simply tried to maintain his stand.
The video has caused an uproar online particularly amongst Nigerians who hold a grudge against the Nigerian Police Force.
Below are comments from Nollywood actress Iyabo Ojo and other Nigerians.
Iyaboojofespris: "Arrest the arrester'
Legendary: "The police man get sense, he intentionally allowed this guy dem wahala."
Unlock_arewa: "He does not want to loose his job, this new police police policy needs to be renewed. Police are losing confidence."
K_izzy: "Omo, e no get wetin person no fit see for Naija, different characters and breed."
Uzzie: "my country, too much drama."
Halo: "Who is arresting who now. Nihlgeria my country."
Temitope: "Now if the police shoot, then everyone will start shouting, this is not funny at all."
This article was originally published on Naija News