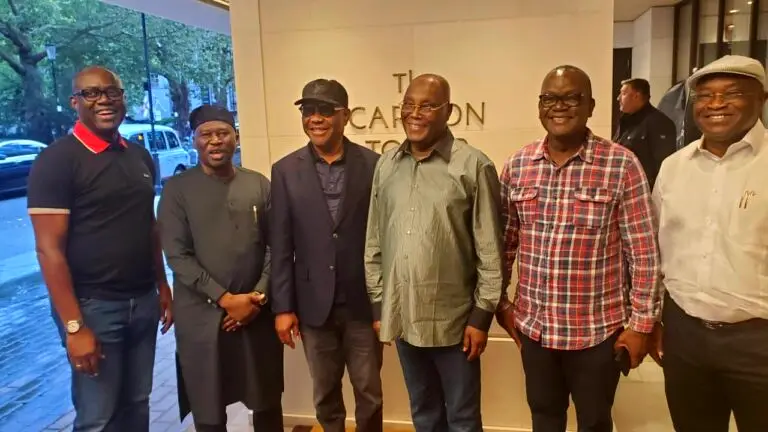 The meeting between the presidential candidate of the Peoples Democratic Party (PDP), Atiku Abubakar, and some governors of the party in London has generated reactions online.
Naija News reports that Atiku met with Governor Nyesom Wike of Rivers State and other PDP governors in London on Thursday.
Others present at the meeting asides from Atiku and Wike were Governor Seyi Makinde of Oyo State, Governor Okezie Ikpeazu of Abia State, and his Benue State counterpart, Samuel Ortom.
It was gathered that the meeting between the political leaders was centred around reconciliation and the need to move the major opposition party forward.
Wike has been aggrieved over the presidential primaries of the opposition party and the choice of Governor Ifeanyi Okowa of Delta State as running mate.
However, some netizens have taken to the micro-blogging platform, Twitter to express their reactions to the meeting between Atiku and the PDP governors.
See some of the reactions below.
PDP boys jubilating on the TL because of ordinary photo of Wike & Atiku. Obviously, they've been dying inside. Wike show them pepper.

— Deborah Gaji (@Deborahgaji) August 25, 2022
And he @atiku met with WIKE in London, meanwhile most of you fail to ask if all this quarrels are all strategies by @OfficialPDPNig to get information from both APC and LP that will be used to defeat them in the election. The game is the game.#Atiku4SURE #AtikuOkowa2023 pic.twitter.com/0kV4BpGHi4

— Harry ARIKO (@ArikoHarry) August 25, 2022
Yesterday,I made a couple of tweet about Gov Wike out of frustration & anger over how all efforts at reconciliation had remain futile.However,later that evening pictures of Atiku & Wike surfaced online & tbh I was very happy. I don't hate Wike,I only wanted peace & unity in PDP.

— Miz Cazorla (@MizCazorla1) August 26, 2022
Wike's Upper hand and Atiku's begging meeting did not achieve anything meaningful. It was just an action of courtesy. Panic mode. Even Obasanjo's meeting did not achieve anything. Sule Lamido damaged the reconciliation. Wike is playing a good game. APC is okay now. pic.twitter.com/bE1Hmm3krN

— Woye (@woye1) August 25, 2022
If Wike likes, he should snap 100 pictures with Atiku, Rivers State is fully Obidient.

— $Hydra (@TheBriDen) August 25, 2022
https://twitter.com/SK_ENTERPRISE1/status/1562895253920948226
Atiku traveled all the way to go and see Wike in London. 😂😂 That man is an impostor. He's living a fake life. He's claiming to be who he isn't. Wike is indeed the real Unifier. Atiku no finish him internship. Man can't even unify his campaign team 😂

— Chlorpheniramine #OBIdients 🇳🇬 (@VictorIsrael_) August 25, 2022
Why Wike dey look at Atiku like him wan wife am? 😄😄😄 pic.twitter.com/RZBSGon6Yg

— Dolly A. Kola-Balogun (Mikano Queen) (@dollykola) August 25, 2022
Atiku meets Govs Wike, Makinde, Ortom, Ikpeazu, Obasanjo, Peter Obi in London.

Must these leaders always leave the shore of this country to decide our future??

We need a better leader abeg🙄

Northern Cyprus pic.twitter.com/nC0jq0bdQR

— Zukky_D_Great🇳🇬 (@zukky04) August 25, 2022
https://twitter.com/Govshina/status/1562886066612289537
This article was originally published on Naija News