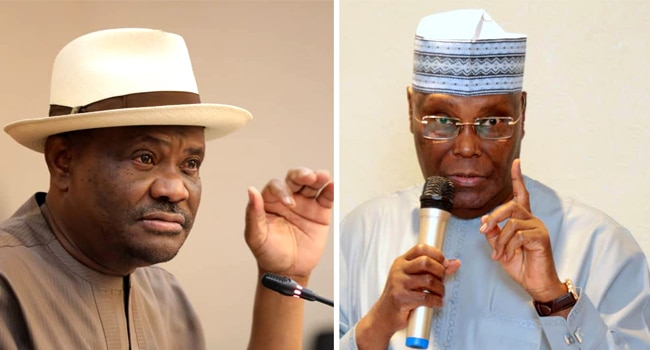 An All Progressives Congress, APC, chieftain, Osita Okechukwu has warned Rivers State Governor, Nyesom Wike against supporting the presidential candidate of the Peoples Democratic Party, PDP, Atiku Abubakar.
Naija News  recalls that rift between Atiku and Wike began after the PDP presidential primaries in May.
Speaking on the situation via a statement on Friday, Okechukwu said Wike might lose out on Nigeria's political permutation if he backs Atiku, who "betrayed" the South.
The Voice of Nigeria (VON) Director-General advised him to spend his time abroad "with less distraction."
He told the governor not to "make the mistake of rewarding Atiku, who betrayed the South and by extension Wike, who could have won the PDP presidential primary election."
He said: "The rotation convention of president from north to south and south to north which governed the 4th Republic Nigeria from inception in 1999".
"The grave danger of Wike making the gross mistake of going back to Atiku, who is now the new sheriff in-charge of PDP, is that he will definitely suffer from dagger's syndrome," he said.
Osita went on to state that the dagger syndrome will be the fate of Wike if he decides to sheath his dagger which has been drawn already and subsequently advised him to support Tinubu or Obi.
"For Asiwaju, he will harvest from our (APC) spread. For Obi, his constituents and allies may be more comfortable," he urged.
This article was originally published on Naija News