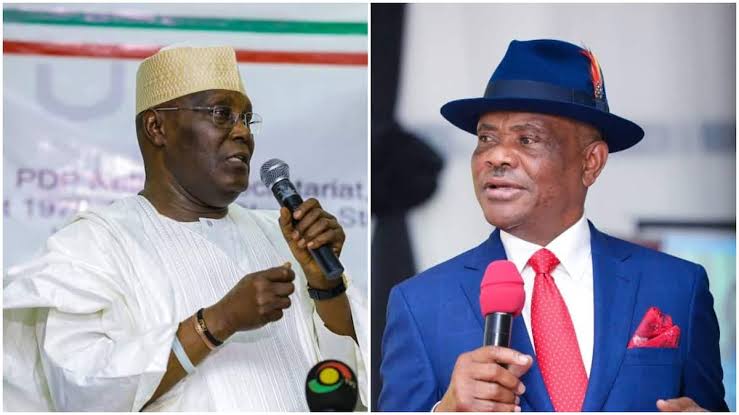 The presidential candidate of the Peoples Democratic Party (PDP), Atiku Abubakar is seeking support for the National Chairman of the party, Iyorchia Ayu to remain in office.
There are speculations that Atiku wants Ayu to remain in office until after the 2023 general election.
This is despite the call by the Rivers State Governor, Nyesom Wike for Ayu to step down from office and for someone from the South to take over.
A source that spoke with The Nation said Atiku is seeking the support of the National Executive Committee (NEC), the Board of Trustees (BoT), the National Caucus, the National Assembly Caucus, the National Working Committee (NWC) and the 36 PDP state chairmen and that of the Federal Capital Territory (FCT) for Ayu to remain in office.
There are plans to involve all presidential aspirants in the move to take over power in 2023.
A source close to the Atiku camp said stakeholders called for the need to adopt persuasion instead of a confrontational approach in the reconciliation move.
According to the source, the demand by the Wike camp over the party's leadership is a legitimate one.
The source said, "Of course, we have all come to terms with the reality of the lopsided configuration in the PDP hierarchy where we have our presidential candidate, national chairman and BoT chairman from the North.
"We also appreciate the position being canvased by Governor Wike and his loyalists, who are mainly from the South, that it will appear awkward to voters in their respective states for PDP to parade only northerners as the party's topmost leaders, in addition to a presidential candidate from the North during campaigns.
"But the reality on the ground calls for caution on the party of everyone because we believe that there is enough room for further consultation and negotiation that would assuage frayed nerves. It is a work in progress and we can make a success of it if we are committed to the unity of our great party."
Another source noted that the crisis in the party is a result of desperation for power by both the Atiku and Wike camps.
The source said Atiku and Wike are responsible for the zoning arrangement that produced Ayu and other NWC members.
The source said, "The original arrangement was for the South to produce the National Chairman.
"But some people ensured that the plan changed along the line and many of us were surprised when they suddenly came up with the idea of picking the National Chairman from the North.
"We were later told that there was an unwritten agreement that Ayu would step down for a southerner if our presidential candidate eventually emerged from the North and this is what has brought us to where we are today."
This article was originally published on Naija News