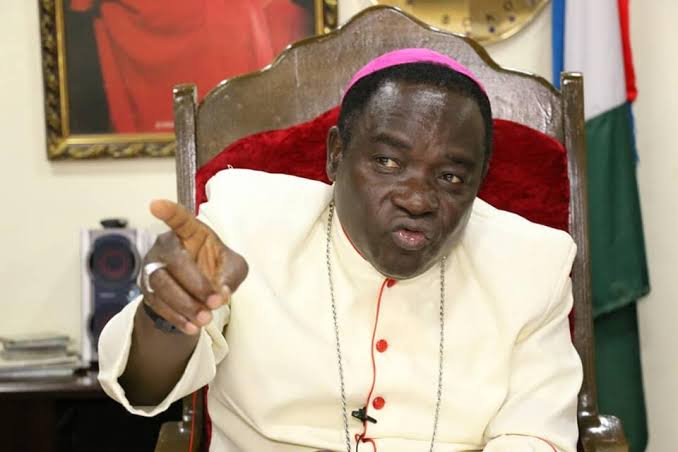 The Catholic Bishop of Sokoto Diocese, Matthew Hassan Kukah says Nigerians have become more mentally aware than those governing the country.
The outspoken cleric made the observation on Wednesday, adding that it is the reason there are agitations from some sections of the citizens.
He added that it won't be a bad idea if those who don't know seek knowledge.
Naija News reports Kukah made the observation in Abuja during the presentation of his new book, "Broken Truth," as part of activities lined up for his 70th birthday.
The Bishop said, "The agitation that persists in Nigeria is largely borne out of the fact that those who govern us are not aware of how much mental progress ordinary people have made.
"Those who are being governed are more intelligent and endowed. And it will not have been a bad thing if people who don't know seek knowledge."
Religion Should Not Be Used To Manipulate Politics
Speaking earlier at the same event, Bishop Kukah stated that using religion to manipulate politics never produces good results, warning that such comes with negative consequences.
He cited an example of what happened in Germany during the reign of Adolf Hitler, warning that Nigeria must not go that route.
He said, "If you look at history, there is a consequence for using religion to manipulate politics. We just need to look at Germany. The consequences are there to see in Hitler.
"The problem is that the Nigerian political elites lack the mental capacity to understand the consequences of the fire they are stoking because there is nothing to suggest that the average person who is living in the north, who is Fulani, who is a Muslim, or who is Hausa, can say that they are proud of the Nigerian political system, beyond a very tiny percentage.
"So, if you decide that you want to give privilege to a religion or an ethnic group, what will happen is that others automatically become outsiders."
The observation by the catholic priest comes at a time the All Progressives Congress (APC) has opted to field a Muslim-Muslim presidential ticket for 2023 despite the outcry against it by some Nigerians.
This article was originally published on Naija News