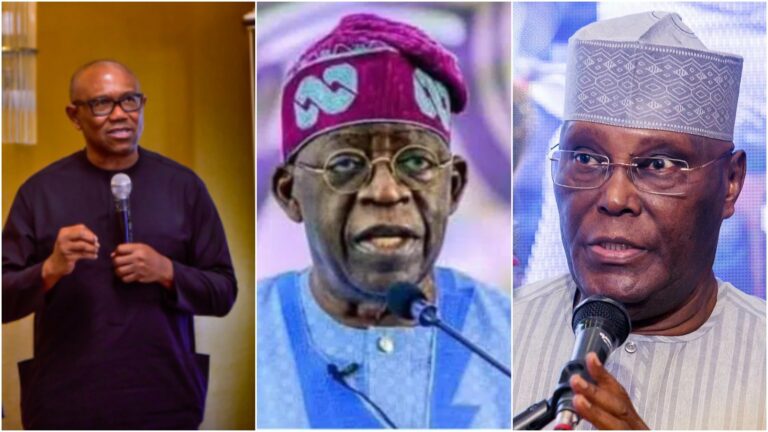 The Spokesman of the Tinubu Campaign Organisation, Bayo Onanuga, has said the presidential candidate of the All Progressives Congress (APC), Bola Tinubu, will emerge as the winner of the 2023 general elections.
In a chat with The Punch, Onanuga said the presidential candidate of the Peoples Democratic Party (PDP), Atiku Abubakar and his Labour Party (LP) counterpart, Peter Obi, are not a threat to Tinubu.
The former Director General of the News Agency of Nigeria (NAN) also dismissed claims that Atiku is gaining ground in the North and they may betray Tinubu in the run-up to the 2023 election.
He said: "I don't know why some people have stereotypes about the North. Don't cast them in the image that they are not. This is the same North as in 1993, when the son of the soil, Tofa, under the NRC, challenged him, but late MKO (Abiola) from Ogun State beat him in Kano and other northern states, excluding Adamawa.
"To say the North is supporting Atiku is to daydream. Don't forget that Bola Tinubu is not just Bola Tinubu. He is Bola Tinubu of the APC. The APC is on the ground in all the states.
"We are stronger in the North than even in the South, and Tinubu is their candidate. We believe that they are going to stick with him and vote for him. Atiku is from Adamawa and may get some sympathy votes, but it won't be enough to upstage Bola Tinubu. We are not afraid."
Speaking further, Onanuga described Obi as just a social media creation, whom is going to fade out before the 2023 general elections.
"Peter Obi is just a social media creation. Our belief is that with the election about five months away, he will fade out," he added.
This article was originally published on Naija News