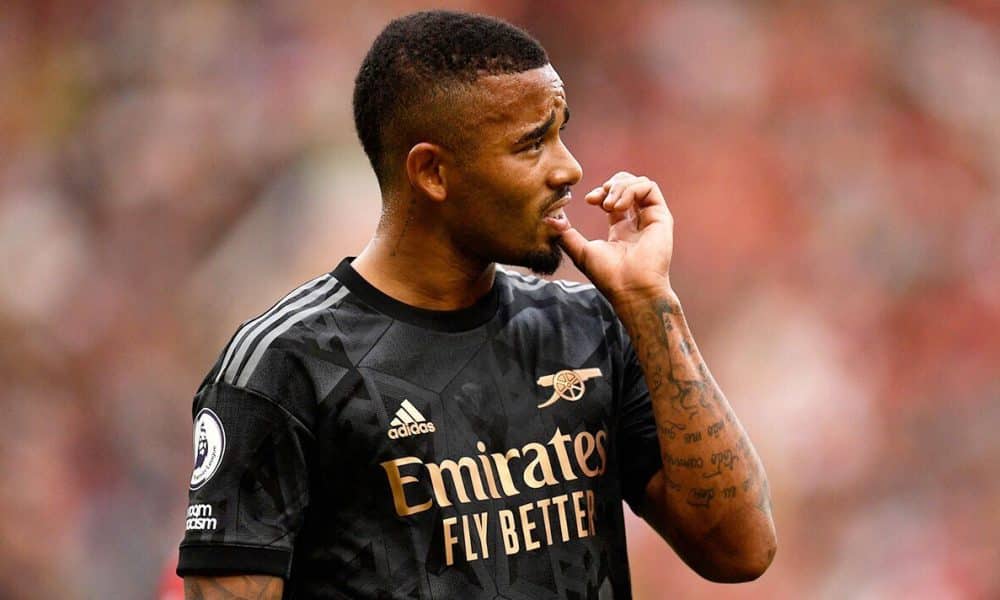 Brazilian professional footballer who plays as a striker for Arsenal, Gabriel Jesus, has reacted to the Gunners' embarrassing defeat at Old Trafford on Sunday.
Naija News reports that Manchester United thrashed visiting Arsenal 3-1 yesterday in their English Premier League clash.
Mikel Arteta's side which has been on the winning streak since the ongoing season began, lost woefully to Erik Ten Hag's men who are just regaining their stand in the EPL.
Though Arsenal dominated most of the game at Old Trafford, the Red Devils made good use of their chances to unsettle the defence line of the North London club.
Jesus who spoke hours after the match told journalists that there were frustrations in Arsenal's dressing room moment after the embarrassing defeat.
Commenting on the loss, Jesus said: "The feeling is frustration because we controlled the game and the first two goals we conceded, we were better than them.
"So we are not happy because, in my opinion, we could have won because we played so much better.
"But that's football. If you don't go there and kill, you are going to have a big problem – and that's what happened. Now is the time to learn from it and improve. We are doing so well this season, but there are still things to improve for everyone, as individuals and as a team."
The Ball Came Perfectly For Me – Antony On First Goal For United
After netting his first goal for the Red Devils on Sunday, United's new signing, Antony said he was happy to have contributed to the club's victory against Arsenal.
Naija News reports that United completed the signing of the Brazilian player from Ajax for a fee of £86m last week.
The 22-year-old put Ten Hag's men in the lead yesterday after scoring the opening goal against Arsenal.
Sharing his experience at Old Trafford so far and his contribution to Sunday evening's victory, Anthony said to journalists; "Marcus passed the ball to perfection so when it came [to me], there was not much more I had to do," said Antony somewhat modestly.
"I saw the goalkeeper and the ball just came perfectly to me to place it as I did. I was very happy to just go with my instinct."
Speaking on the other performances that saw United to winning all three points at home, Antony commended his teammates, especially, Marcus Rashford who provided him with the pass for his dream moment.
Naija News understands that Rashford later went on to score twice himself during the game to earn United 3-1, a bruise to Bukayo Saka's equalizer for the visiting team.
"Bruno Fernandes had the ball, I think he shrugged off Gabriel Jesus, and then he touched the ball to Jadon Sancho," said Anthony during an interview.
He added: "Sancho made the touch to Marcus and I knew he could slip the ball either way. And when Marcus, being a very intelligent player, realised I could make a run, I just took off. He slipped the ball and I took the chance well."
This article was originally published on Naija News