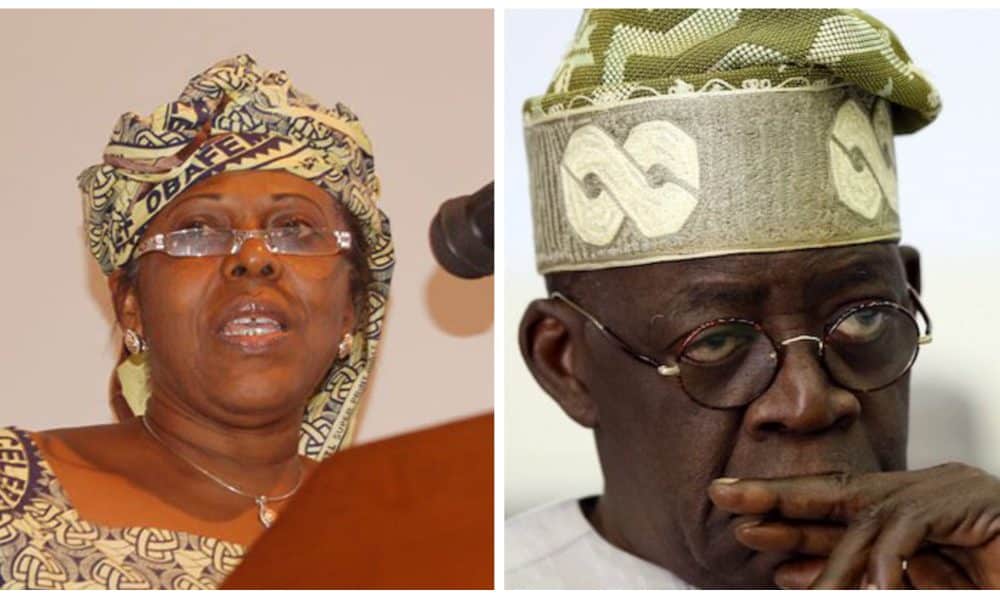 The Chairman, African Newspapers of Nigeria Plc, Tokunbo Awolowo-Dosunmu, has denied reports claiming that she said there is a plot to get rid of the All Progressives Congress (APC) presidential candidate, Bola Tinubu.
Naija News reports that some media outfits had quoted Awolowo-Dosumu as warning Nigerians of a plot to get rid of Tinubu in favour of his running mate, Kashim Shettima if they win the 2023 presidential election.
She was said to have urged Yorubas to stop being sentimental and tribalist about the three major candidates, contesting for the office of the presidency.
But in a statement on Wednesday, Awolowo-Dosunmu asked members of the public to ignore the fake reports, describing them as false, mischievous and wicked.
Awolowo Dosumu said she had not spoken with any journalist in recent times on any matter whatsoever including the 2023 presidential election and the candidates.
The Executive Director of the Obafemi Awolowo Foundation said she had not been in partisan politics for decades, adding that she has not endorsed nor condemned any candidate or party.
"I am not in partisan politics and I have not been in partisan politics for decades. I have neither endorsed nor condemned any candidate or party.
"I have no intention to do so. I refuse to be dragged into a matter I know nothing about. I advise whoever is behind this wicked lie to make better use of their time for the progress and development of our country, Nigeria," she said.
How To Improve His Chances At The Polls
Meanwhile, the South-West Agenda for Asiwaju (SWAGA'23) has said the support for its principal Bola Ahmed Tinubu will improve when the campaigns for the 2023 general elections start in earnest on September 28.
Recall that the Independent National Electoral Commission (INEC) had said that the campaign for presidential and National Assembly elections will commence on September 28, 2022, while that of governorship and state houses of assembly will commence on October 12, 2022.
The last day of the campaign by political parties for the presidential and National Assembly will be at midnight of February 23, 2023, while that of governorship and state assembly is at midnight of March 9, 2023.
Speaking on the plans for Tinubu's campaign, SWAGA's National Secretary, Otunba Bosun Oladele said that Tinubu's record when he was the governor of Lagos state already serves as a good marketing tool to win Nigerians over.
This article was originally published on Naija News