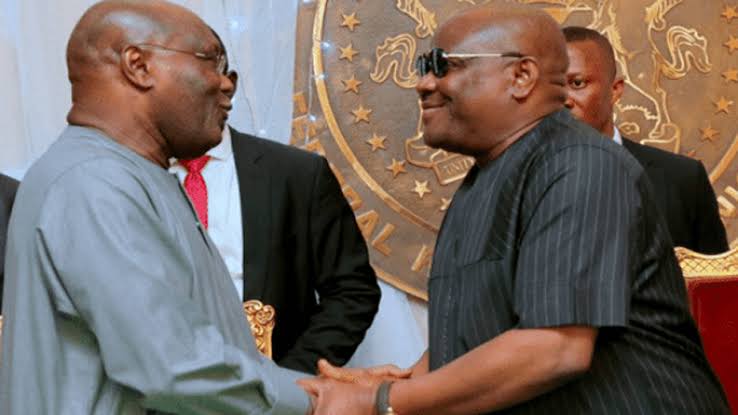 The misunderstanding between the Governor of Rivers State, Nyesom Wike and the Peoples Democratic Party (PDP) presidential candidate, Atiku Abubakar, has been reportedly resolved.
Other matters related to the crisis rocking the main opposition party and decision on the latest development would be taken soon by the PDP National Working Committee, said Kaduna State governorship candidate, Isa Mohammed Ashiru.
Naija News reports that Ashiru was among seventeen PDP governorship candidates who visited Wike in Port Harcourt on Tuesday.
The politicians had visited the sitting governor to settle the differences between him and Atiku and also seek his support for the party's victory in the 2023 general elections.
Speaking after their closed-door meeting yesterday, Ashiru the meeting was fruitful in the end. He, however, refused to make open the full details of their discussion.
He briefly said to journalists: "It was fruitful and an open discussion with sincerity.
"We are home and dry. We discussed issues that border on the situation within the party. Ashiru, who declined to give details of the meeting, said: "But we are through. We have discussed this with the presidential candidate.
"We are here with our brother and friend (Wike). Issues that border on what has happened have been sorted out.
"The issues have been resolved as far as I'm concerned because we have heard from both sides. We are going to meet with the National Working Committee to take a decision," he added.
Wike Reveals Why Atiku Was Defeated In 2019
Governor Wike on Tuesday, September 6, disclosed that PDP chieftains assisted President Muhammadu Buhari to beat former Vice President Atiku in 2019.
The Rivers governor made this known during the commissioning of the Rivers State University's campus in Etche, Rivers State, Naija News reports.
According to him, he was approached by Buhari's team to join in the negotiation, but he stood his ground to deliver Rivers State for PDP.
He further maintained that most of them who made sure PDP never survived since 2015, are the ones saying all sorts about him now.
He stated that no amount of intimidation would cow him into supporting a cause that is not beneficial to the people of Rivers State.
This article was originally published on Naija News