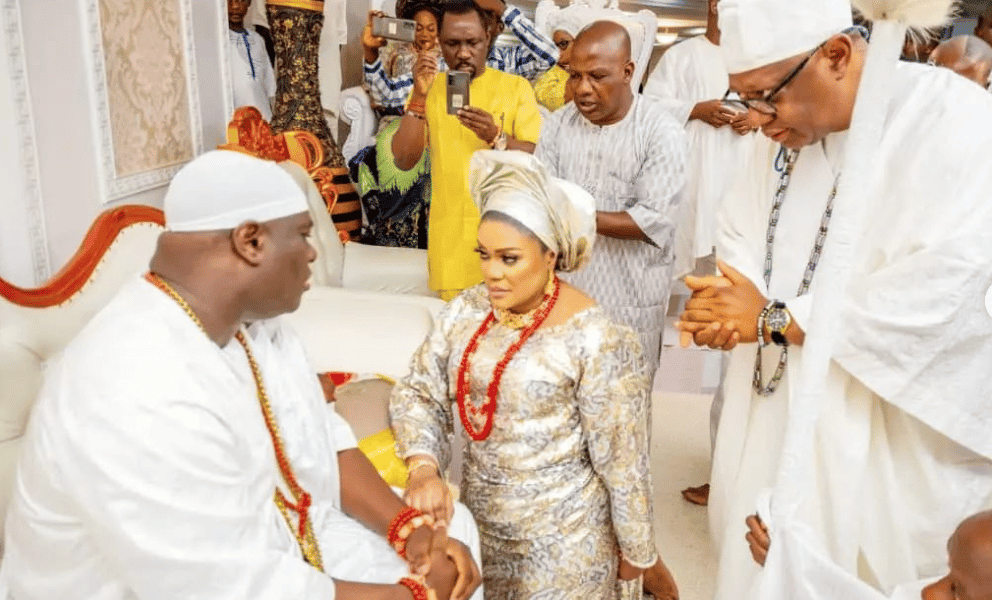 Members of the Council of Chiefs of Ile Oodua Palace of Ile-Ife have advised the new queen of Ife, Mariam Anako, that the Ooni, Oba Enitan Ogunwusi, has the right to marry as many wives as he desires.
Recall that Naija News had earlier reported that barely ten months after his estranged wife, Naomi Silekunola announced their separation on social media, the Ooni once again tied the knot.
This publication gathered that the arrangements for the new marriage started in March when Ooni sent a high-powered delegation to her family to request her hand in marriage.
The Ooni's new wife is reportedly an Ebira lady in Kogi State, her mother hails from Erin-Ile in Kwara and her family lives in Ilorin.
She is an administrative manager in an oil and gas firm.
Welcoming her to the palace, the prominent chiefs urged her to make it her point of duty to keep the royal family together.
These remarks were made by the Chiefs at a low-key wedding ceremony held at the Ile Oodua Palace of Ife on Tuesday.
The event was said to have been done under strict adherence to the Yoruba cultural tradition.
The Lowa Adimula of Ife, High-Chief Adekola Adeyeye explained to Mariam that, "an Ooni is not a man of one wife."
Similarly, the Obalufe of Ife, Oba Idowu Adediwura assured the bride's family and parents that their daughter will be well taken care of.
This article was originally published on Naija News