A myth according to Nigerian journalist and novelist Adaobi Tricia Nwaubani among the Efik of southern Nigeria is that one of their 19th-century kings was married to Queen Victoria of England BBC reports.
"I first heard about it in 2001, when I walked through the museum and saw this very interesting correspondence between Queen Victoria and King Eyamba," says Donald Duke.
Mr Duke carried out major renovations to the national museum and also established a slave trade museum in Calabar, the capital of Cross River State when he was governor there from 1999 to 2007.
"I thought it was important to document our history, so we did a lot of research," he says.
King Eyamba V was one of two monarchs established in the coastal city of Calabar, then consisting of two sovereign states.
King Eyamba V of Duke Town and King Eyo Honesty II of Creek Town presided over the affairs of the Efik ethnic group in the mid-19th century and controlled trade with European merchants.
Due to their location along the coast, the Efik developed long-standing relationships with Europeans, which strongly influenced their culture.
They often bear English surnames, such as Duke and Henshaw, and traditional men's and women's clothing is similar to British fashion from the Victorian era.
The Efik also dominated the slave trade. They acted as intermediaries between African traders in the hinterland and white merchants on ships coming mainly from English cities such as Liverpool and Bristol.
They negotiated prices for slaves, then collected royalties from sellers and buyers. They worked on the docks, loading and unloading ships, and supplying foreigners with food and other provisions.
"Kings became very wealthy. Families became large. They controlled the greatest amount of slaves from Africa," says Duke.
Eyewitness account of the slave trade
More than 1.5 million Africans were shipped to what was then called the New World – the Americas – through the port of Calabar in Bonny Bay, making it one of the largest points of exit from transatlantic trade.
A book containing the 18th-century diary of an Efik slave trader – written in pidgin English and discovered in the archives of Scottish missionaries – was published in 1956.
Entitled "The Diary of Antera Duke", it is the only account of the slave trade by an African merchant.
"We went down with Tom Cooper and the captain of the Comberbach dinghy, got on board at 2 a.m. and got it all sorted out, and he unloaded Duke and us 143 barrels of gunpowder and 984 brass," can we read in an entry.
Queen Elizabeth moves to stop slave trade in Calabar
Decades after Britain abolished the slave trade in 1807, human cargoes were still transported to other countries via Calabar.
"It was important that Queen Victoria had the kings of Calabar on her side," says Duke.
"She wrote a letter asking that they stop trading in people and start trading in spices, palm oil, glassware and other things."
This is where the myth begins.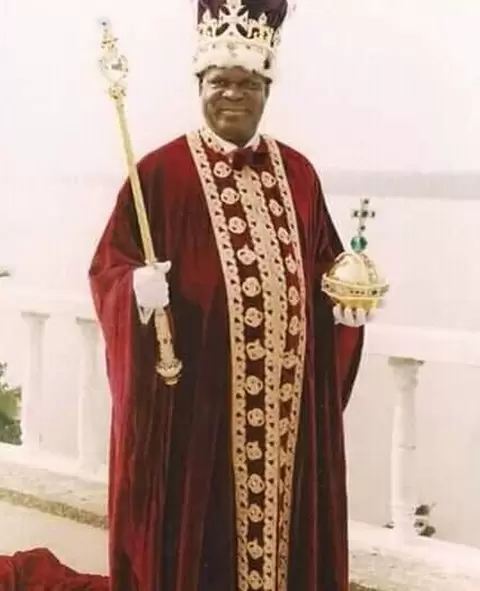 In her letter to King Eyamba, Queen Victoria offers him incentives, including the protection of his people.
She then signs off as "Queen Victoria, Queen of England", which a local interpreter incorrectly translates as "Queen Victoria, Queen of all Whites".
This is where the myth begins
King Eyamba decides that if he accepts the protection of a woman, they must marry. He tells her so in his written reply, which he signs "King Eyamba, the king of all black men".
"He was adventurous and dictatorial," says Charles Effiong Offiong-Obo, an Efik chief who is also the current Duke Town clan scribe.
Prince visits Calabar, becomes an 'in-law'
Prince Michael of Kent was on a private visit to Calabar in 2017 when the reigning Obong, Edidem Ekpo Okon Abasi Otu V, learned that the people's in-law from England was in town.
He celebrated the prince – a member of the British royal family and first cousin of Queen Elizabeth II – and made him chief with the title Ada Idagha Ke Efik Eburutu, which means "A person of honour and high rank in the Efik Eburutu kingdom".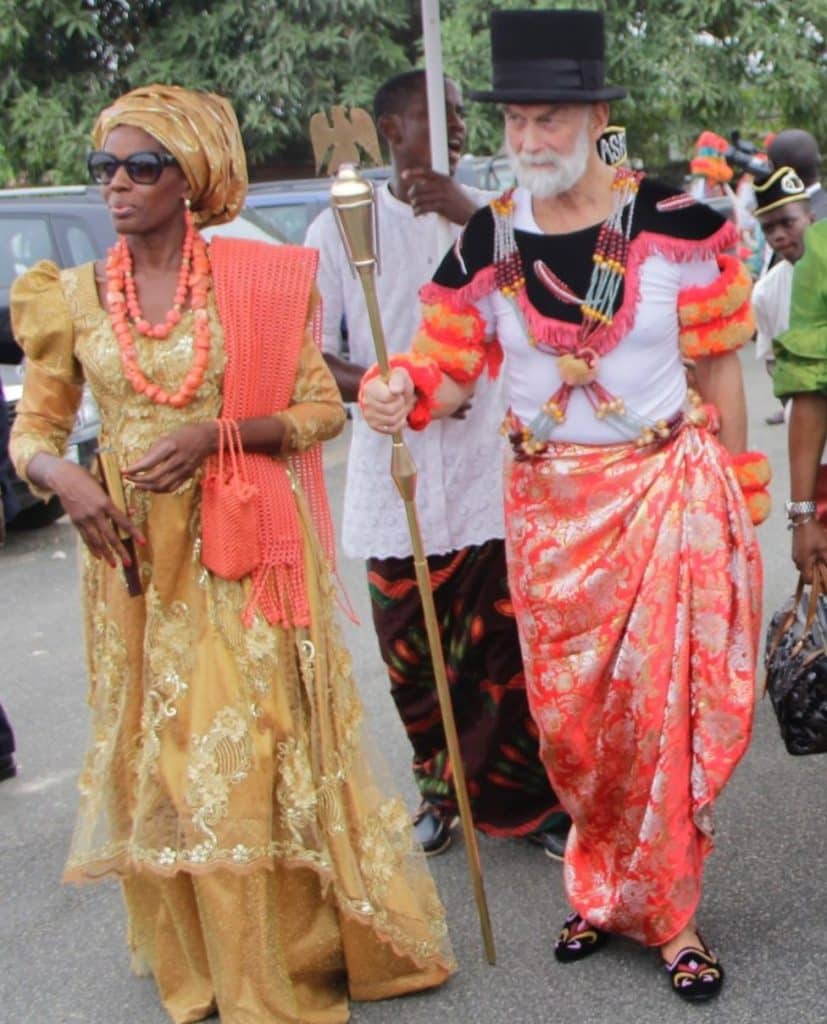 Barbara Etim James, an Obong-awan, or queen, among the Efik, recalls that she had only two days to organize the grand title ceremony, which took place at the Obong palace.
"During Prince Michael's visit, at every opportunity, they reminded him that he was their brother-in-law. Even during the ceremony, they still told that story," she says.
"Prince Michael was delighted to hear of the historic links between the Efik and British royalty and was honoured to deepen those ties with his Efik chiefdom," she adds.
The Obong of Calabar has two thrones, one is reserved for the Queen of England
In keeping with the tradition that began after the "marriage" of King Eyamba to Queen Victoria, the coronation of the Obong of Calabar always takes place in two phases.
After the traditional rites are completed in the community, the coronation ceremony continues in a Presbyterian church (formerly the Church of Scotland), where the Obong wears a crown and cape custom-made for the occasion in England.
Two thrones are placed side by side and he sits on one of them, while the second is left empty for the absent Queen of England (or a Bible is placed there). His famous wife is seated behind him.
"We have a union here between the queen of all whites and the king of all blacks," says Duke.
This article was originally published on Naija News