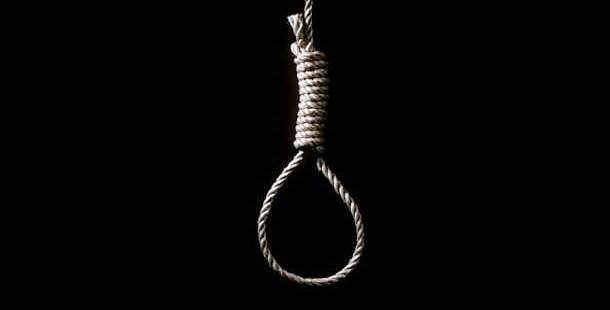 The remains of Chukwuemaka Akachi was discovered on May 13, 2019, by his friends after he had successfully executed his suicide mission by taking two bottles of sniper in an uncompleted building located at Sullivan Road, Nsukka. The 21-year-old lad had frequently updated posts on his Facebook profile that suggested a deteriorating mental health and mixed thoughts before his death. A young promising writer and poet he was, Akachi's story is akin to many other unfortunate stories of young Nigerians who ended their own lives.
The word 'suicide' is not new to anyone. Not only because it is a common word, but because it has become ubiquitous in recent times. Suicide was coined from the Latin word "Suicidium," which literally means "to kill oneself." And to put it simply, suicide is the successful act of 'deliberately ending one's own life.' Some of the first suicide cases can be traced back to the days of Ajax the Great, a Greek mythological hero who killed himself in the Trojan War and Empedocles, a Greek philosopher who originated the theory of The Four Classical Elements. He was believed to have died by throwing himself into Mount Empedocles. I won't bore you with chronicles of suicidal cases in history. This is to give you a skimpy insight into one of the first recorded cases of suicide.
Suicide in Nigeria is becoming an everyday occurrence. In 2018, Nigeria ranked fifth in WHO's report on suicides per 100,000 cases published by Spectator Index. This means that Nigeria was placed fifth with 15,000 suicides in every 100,000 suicides worldwide. A close look into Nigeria's cases in 2018 indicates that young Nigerians, mostly those in tertiary institutions constitute a higher percentage of deaths by suicide. Between January and June 2019, 42 cases of successful suicides were reported, and more than 11 of these 42 cases were students of higher institutions.
Depression is one of the major causes of suicide and a contributing factor worldwide. Statistics have revealed that eight out of every ten suicide cases are caused by depression. Depression is a mood disorder whose causes can be wrapped up in two conditions; biological and circumstantial. However, according to a survey by experts, depression in Nigeria stem from frustration, mental disorder, emotional problems and economic/financial circumstances.
With a multiplying rate of cases of depression, in 2017, WHO declared Nigeria the most depressed country in Africa. According to the report, about 7,079,815 Nigerians suffered depression in 2017. This translates to 3.9 percent of the country's population.
Also, 4,894,557 Nigerians, that is 2.7 percent of the population suffered anxiety disorders. Depression affects over 120 million people worldwide, 30 million in Africa and contributes to about 850,000 suicide deaths worldwide.
Many suicidal signs are usually evident. And the onus lies on close relatives and friends to observe these signs from their loved ones. Talking about lost hope and not having a reason to live anymore, actions that show self-hatred and worthlessness, incessant emotional instability, actions that show withdrawal from people and self-isolation, strange and sudden calmness, and talking about guilt and shame over an occurrence are some of these signs.
The important question is "Can suicide be prevented?" Yes, suicide can be prevented. One of the most effective formulas to prevent suicide is speaking up. Speak up to a close friend and/or family member about any challenges you face. To help a suicidal friend, you need to be proactive. Especially by observing their behavioral changes. Responding quickly to a crisis can also prevent suicide. Offering help and support, also. Many people who committed suicide in the past nurtured the feeling of being alone in the world. No one offered financial or emotional support and assistance during difficult times. No one gave a listening ear to them when they needed it most.
80 percent of suicidal cases around the world can be prevented if there is genuine care and attention. Every form of gesture could save a life, no matter how small it is.
Just like American writer, Ransom Riggs wrote: "a song and a smile from someone I cared about could be enough to distract me from all that darkness, if only for a little while."
Bright Okuta is a writer and digital journalist.
Twitter: BrightOkuta
Email: brightokuta@gmail.com
This article was originally published on Naija News