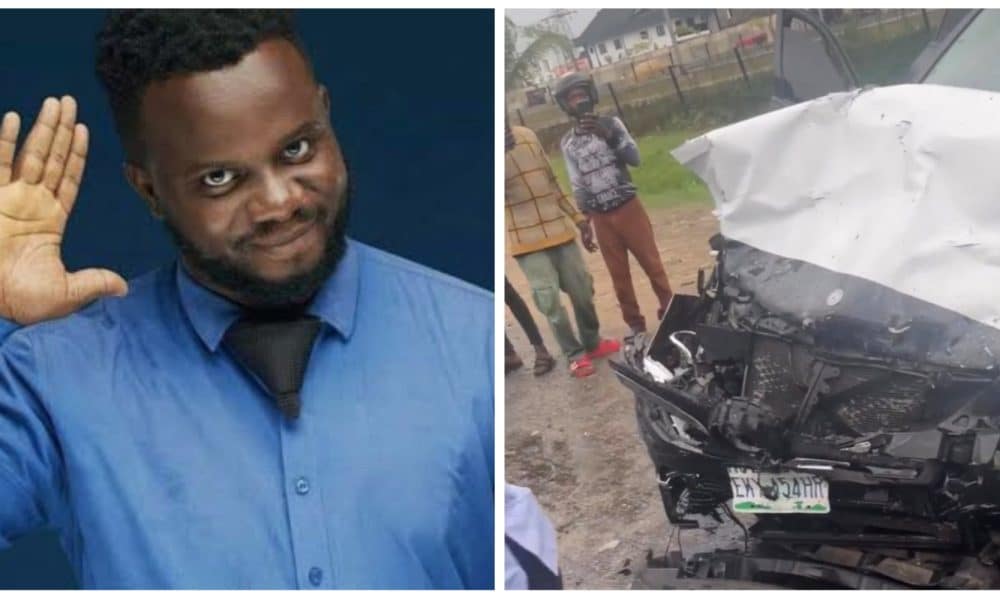 Nigerian skit maker, Emmanuel Chukwuemeka Ejekwu, popularly known as Oga Sabinus, has survived a ghastly car accident.
Naija News reports that a video of the crash which happened on Sunday morning is currently circulating on social media.
A social media influencer, identified as Danny, also shared the news on the microblogging platform, Twitter.
According to him, a suspected drunk driver ran into Sabinus' car from the other side of the road while he was driving home.
He noted that the skit maker's new car was damaged, but he survived.
He wrote: "Sabinus was just involved in an accident in his new Benz and he survived.
"A suspected drunk driver ran into him from the other side of the road this morning when he was driving home."
Confirming the news, Sabinus took to his Instagram story to express appreciation to everyone who has reached out to him, adding that he is safe and sound.
He wrote: "Safe and sound!!! Thanks, guys for the calls and care"
I'm A Celebrity, I Cannot Help My Wife
Meanwhile, veteran Nollywood actor, Yemi Ayebo popularly known as Yemi my lover, has shared his thoughts on marriage and how he runs his home.
Speaking in an interview with Punch, the actor who said he got married at 38 explained the importance of being financially stable before venturing into marriage.
He argued that ladies of the new generation are not ready to stay with a man who does not have enough money to cater for them.
Speaking further on chores in his home, Ayebo explained that he does not help with housework because it is forbidden in his family. He however stated that he helped his wife in planting crops such as yams and vegetables so she wouldn't go far to purchase them.
He also said that he could not go to the market and buy stuff for his wife because he is a celebrity and thugs might try to harm him if he is seen in the market.
This article was originally published on Naija News