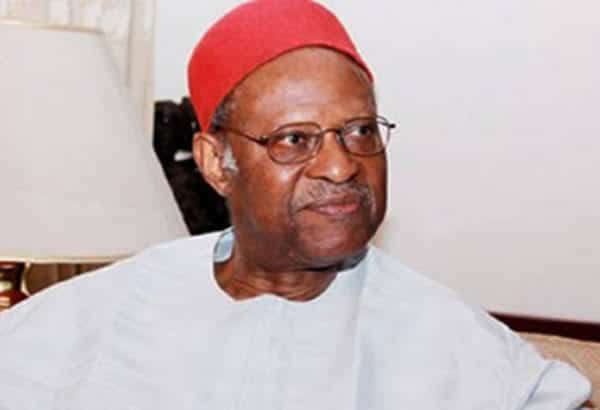 A former Secretary-General of the Commonwealth, Emeka Anyaoku has shared his story on how the late Queen Elizabeth II and others handled the murder of Ken Saro Wiwa by the late autocratic ruler, General Sani Abacha.
Naija News had earlier reported that the late monarch had died at the age of 96 after ruling England for 70 years.
Buckingham Palace announced that the Queen passed away "peacefully" last Thursday afternoon at Balmoral Castle in Scotland.
Speaking on the death of the queen in an interview with Vaguard, Anyaoku described her as an exceptional human being who was very knowledgeable and cared very deeply for others.
He stated that she was affectionate towards Nigerians as two Heads of Nigerian government, Gen Gowon and Gen Babangida visited and stayed at Buckingham Palace.
Speaking on the suspension of Nigeria from the commonwealth due to the murder of Saro Wiwa, Anyaoku, who was the Secretary-General of the organisation at that time, said that he had earlier learnt that Abacha was planning to murder the late Ogoni environmentalist and he  sent him a message to desist from such an action.
He said: "Nigeria was suspended at the Commonwealth Heads of Government meeting in Auckland in 1995. Two days before the meeting, I had wind that General Abacha was likely to order the hanging of Ken Saro Wiwa and others. And I sent a personal message to him.
"I also got President Nelson Mandela to send a message to him, pleading with him not to kill Saro Wiwa. The morning the meeting opened, news came that he had done so. And that was an infringement of a basic value of the Commonwealth."
Speaking further he said that because the Commonwealth which is headed by the queen believes in freedom and respect for lives they had to suspend Nigeria.
He explained that when the heads of government got wind that he wanted to resign from his position they expressed their confidence in him and convinced him to stay in office.
"A number of them spoke to me and said I have been advocating the values of the Commonwealth and principles and they expected me to remain in office.
"That was how I remained in office. But Nigeria, instead of being expelled, was suspended and readmitted to the Commonwealth the day Obasanjo was sworn in as President", he added.
This article was originally published on Naija News