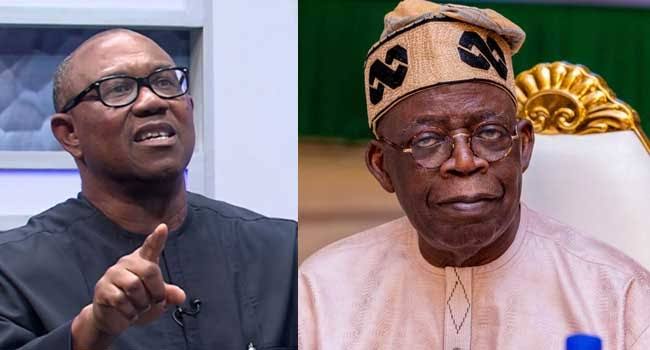 The presidential candidate of the Labour Party (LP), Peter Obi, has said that Nigerians are pushing the All Progressives Congress (APC) flagbearer, Bola Tinubu, to become president because of the financial gains involved.
Obi stated this during a meeting with Nigerians in Belgium recently, Naija News understands.
In a video published by Njenje Media TV on YouTube on Saturday, the LP flag bearer accused Nigerians of pushing for Tinubu's presidency despite the fact they were aware that he is sick.
He said : "Once he comes here and gives you money, you will say Jagaban is the best candidate even when the man is not well. That's the problem of the country.
"somebody said to me that this candidate fought Abacha regime to stand still. That he even lost everything. I said, but he has two planes now. Where is his company?
"My brother, we are in a crisis."
Speaking further, the former governor of Anambra state begged Nigerians to take back the country and put a leader in power that the people can question.
"That's why I'm pleading to all of us. Let us go and take back our country and run it like any other country where the leader is responsible to the people. The people can question the rascality and the behaviour of their leader. Bad behaviour has become a measure of success in our system," he added.
Tinubu's Health
Naija News reports that the health status of the former governor of Lagos state has been generating concerns among Nigerians.
In February, a picture of Tinubu's garment soaked from behind had made the rounds on social media.
However, the APC had said that it was a doctored picture created by Jagaban enemies to soil his presidential ambition.
Tinubu has also stated that he does not need physical strength to run the country.
This article was originally published on Naija News