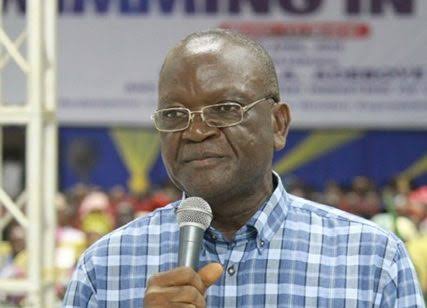 Governor Samuel Ortom of Benue State has accused the All Progressives Congress-led government of bringing the economy of the country to a total collapse.
The governor made this known in a statement issued on Tuesday by his Chief Press Secretary, Nathaniel Ikyur, Naija News reports.
Governor Ortom said the APC has performed poorly in the past seven years and the Peoples Democratic Party (PDP) is ready to rescue the country from the ruling party in 2023.
The governor, therefore, said the ruling party will lose the 2023 election after performing abysmally in the last seven years.
He said: "They've (APC) kept their promise to take Nigeria from top to bottom. They have taken our country to the bottom. It's a big shame. For us in the PDP, the onus rests on us to mend the cracks in our party. No external influence will do that for us. By the grace of God, we will reach a successful end so that we can move on.
"So long as the Independent National Electoral Commission (INEC) is as professional and neutral as it was in Osun and Ekiti states, I don't see the APC winning the elections.
"Having been in politics from the grassroots, the state and national levels for over 40 years now, there's no magic the APC can conjure to win in 2023.
"Some of their leaders who think they are powerful, have indirectly visited wickedness on the generality of our people in the name of being close to Aso Rock."
The Benue governor alleged that some members of the APC prevailed over the federal government not to release funds to his state to pay salaries and pensions.
"We applied for a bailout of N42 billion from the federal government to enable us to offset long-standing arrears of salaries, pensions and gratuities. Some of these people scrambled to the state house to tell the president not to release the funds even after approval so that we will not take the credit for solving the age-long problem. This is the kind of mean-spirited attitude APC is inflicting on our people."
This article was originally published on Naija News