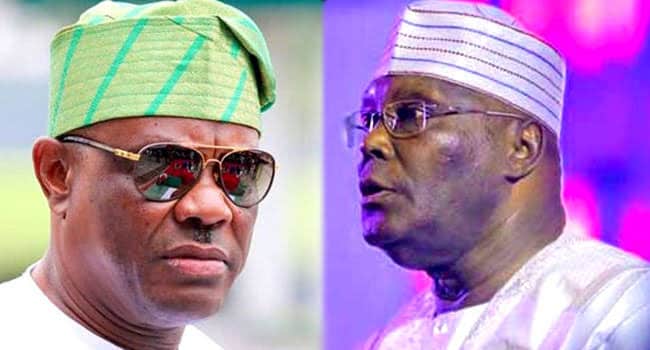 Peoples Democratic Party (PDP) presidential candidate, Atiku Abubakar and Governor of Rivers State, Nyesom Wike, have been charged to settle their differences with immediate effect in other not to cost the party the chance of returning to power come 2023.
This is as Atiku is advised to include all former presidential aspirants of the party as members of his presidential campaign council for the forthcoming polls.
Former PDP presidential aspirant, Dr Nwachukwu Anakwenze gave the admonition in a statement made available to newsmen in Abuja on Wednesday, Naija News reports.
Anakwenze in the statement signed and issued through the Director-General of Anakwenze Campaign Organisation, Eric Oluwole, expressed concern over cracks in the opposition party.
The party chieftain maintained that the lingering misunderstanding between the stakeholders could cost the party victory in the 2023 election.
Naija News reports that Wike had been aggrieved after the PDP presidential primaries in May. The Rivers State governor considers the actions of the party leadership as a betrayal to him and also a breach of the party's constitution.
Embracing Wike, Saraki, Other Ex-Presidential Aspirants Will Help PDP Win Come 2023
Anakwenze observed that Wike and the likes of Akwa Ibom State Governor, Udom Emmanuel, former Senate Presidents, Pius Anyim and Bukola Saraki were noticeably absent when Atiku met with some presidential aspirants at his Asokoro residence last.
He said the events are worrisome and hence PDP must put its house in order to win the presidency.
According to him, Atiku embracing the former presidential aspirants in his campaign council will help greatly in the ongoing reconciliation within the party and mobilisation of the electorate nationwide.
He said his campaign organization structure has been sensitising and mobilising people across Nigeria to support the party.
Anakwenze said: "There is a need for all former presidential aspirants to release to the PDP presidential campaign team their individual campaign and political structures nationwide, experiences and ideas for the prosecution of a united, well packaged national campaign.
"This will ensure that Nigerians overwhelmingly vote in His Excellency, Alhaji Atiku Abubakar, as their next President who is coming in with well-designed fresh policies and programmes to rebuild our dear country, Nigeria into a land flourishing in abundance, security, true development, justice and peace."
He added: "A united PDP will be in the overall interest of the party and Nigeria which is in dire need of a rescue operation from the worsening chaos and confusion, as typified by the horrors being daily and hourly witnessed by our people across the country."
This article was originally published on Naija News