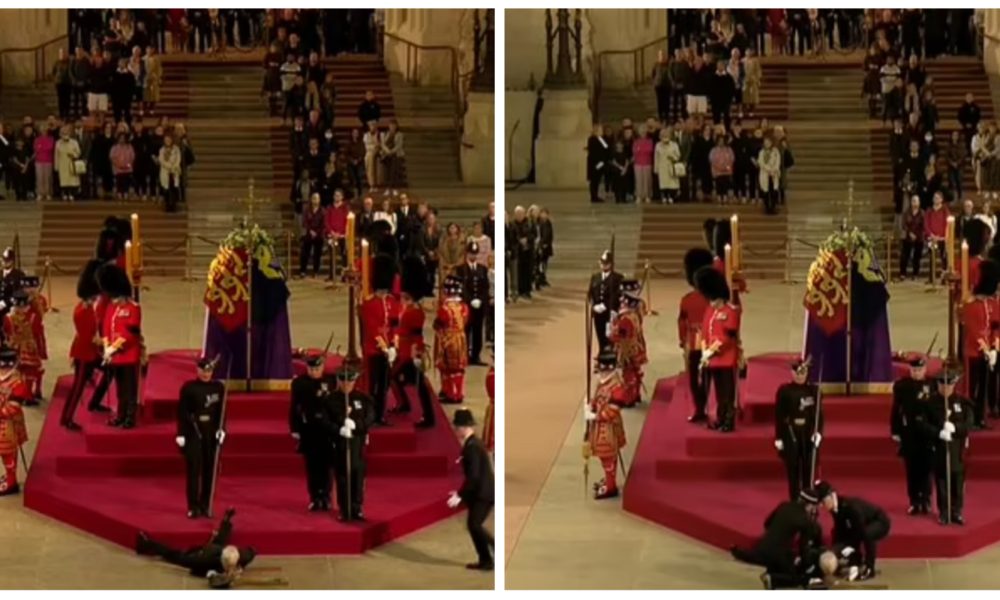 Drama ensued at the Palace of Westminister, where the late Queen Elizabeth is currently lying in state as a guard fainted and fell off the podium.
Naija News reports that thousands of mourners have been queuing to pay their final respects to the 96-year-old monarch following her death at Balmoral on Thursday 8th September.
The video which is currently making the rounds online shows the moment when the palace guard, who is dressed in a black uniform, stumbled from the elevated platform where the Queen's coffin is placed.
Two men quickly ran over to assist him as his cap fell off, exposing his head filled with grey hair.
Student Dies In Strange Plane Crash At U.S
Meanwhile, a Florida Institute of Technology student, Alfa Ekele, has been identified as the person who was killed In a plane accident at Orlando Executive Airport earlier this month.
Wind gusts of 60 mph had reportedly flipped the twin-engine plane he was on which led made the plane crash and subsequently led to his death.
The U.S. Aviation Administration confirmed Ekele and one person were inside the twin-engine Diamond DA42 Twin Star when it flipped over.
Speaking on how the accident occurred, the airport spokesperson said the plane was waiting to take off on a taxiway while the weather was unfavourable when the accident happened.
The deceased was studying for a master's degree in administration of applied aviation safety at the university's College of Aeronautics. The incident was not related to Ekele's work at the school in Melbourne, university officials confirmed.
This article was originally published on Naija News