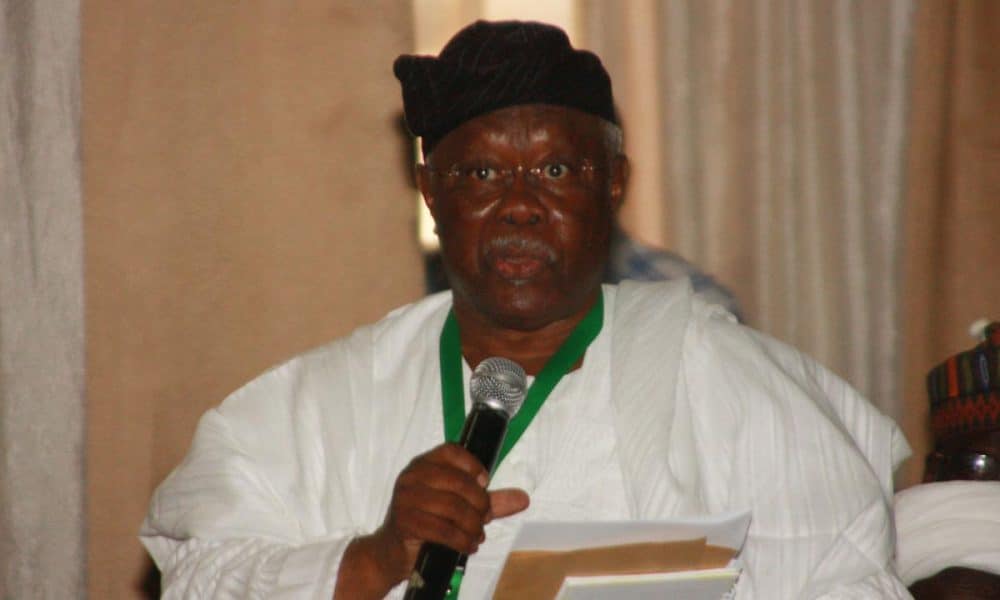 A former National Deputy Chairman of the Peoples Democratic Party (PDP), Olabode George, has berated the party for passing a vote of confidence on its National Chairman, Senator Iyorchia Ayu.
Recall that the PDP National Executive Council (NEC) had last week backed its national chairman following persistent calls for his resignation.
Before the vote of confidence, the party's Board of Trustees chairman, Walid Jibrin, had stepped aside for Adolphus Wabara to replace him.
Speaking to The PUNCH, George said peace has yet to return to the party because issues causing the crisis in the party have not been resolved.
He described the vote of confidence in Dr. Ayu by the party NEC as "shenanigan"
The elder statesman accused some individuals of making arrogant comments during the NEC meeting.
He disclosed that he had to leave the meeting abruptly because he felt uncomfortable.
George said, "That is why I said I will not release anything until I see all the plans because, in politics, we like them to resolve issues amicably. But if it deviates, I will make my reactions.
"I am not too sure peace has returned to the PDP. All those shenanigans that they carried out last week are not going to work. How many people came there? It was more of the northern Peoples Democratic Party versus the southern Peoples Democratic Party. Where is the national PDP?
"I left the meeting when people were making comments that were arrogant. I felt really uncomfortable, instead of telling the man (the truth), they will say 'nobody like you.' So, I got up and walked out because I did not want anything that will spoil my day. I have been in this party since 1998 and I have never seen it this way.
"That is why I said they are trying to divide the party (between the North and the South) and it is very dangerous. At the BoT meeting that I left; they removed the chairman, Board of Trustees, the conscience of our party. Why? The man who was to arrange the mediation and reconciliation was forced to resign.
He stated that Walid Jibrin was forced to resign from his position as BoT Chairman.
"With all these spinning that they are sending to the public, ask him (BoT chairman) who invited him for discussion. Who promised him that he will be given a position once he leaves? Is that appropriate?
"Why are people treating everybody else like a fool? He did not resign voluntarily. That was why I said that this is terrible. It is getting terribly worse. Too much deceit and lies and that are what is happening in Nigeria.
"The country is just sitting in one spot, not moving to any direction. We must carry everyone along. We must have a sense of belonging, commitment," George added.
This article was originally published on Naija News