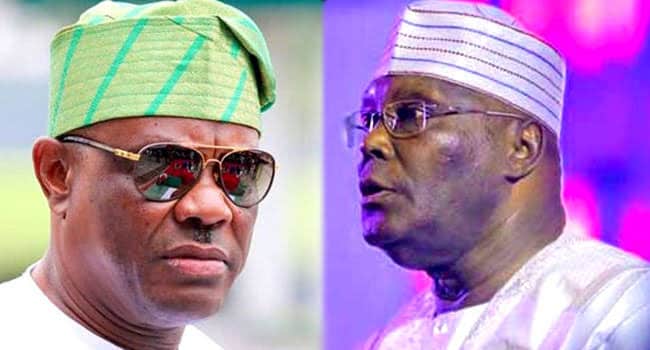 The reconciliation talk between the presidential candidate of the Peoples Democratic Party (PDP), Atiku Abubakar and the Governor of Rivers State, Nyesom Wike, has broken down.
The move by the party and the former Vice President to gain Wike's support in 2023 got affected after the party appointed the Governor of Sokoto State,  Aminu Tambuwal, as the Chairman of the PDP Presidential Management Committee.
Governor Wike's camp in the past few months had condemned the party for ignoring the South in its leadership position.
The issue led to the call for the National Chairman of the party, Iyorchia Ayu to resign from office to allow a Southern to take over from him.
The crisis in the party, however, got worse after the party leadership appointed Tambuwal a northerner as the head of the party's presidential management committee.
A source that spoke with The Nationnwho craved anonymity revealed that Governor Wike's camp is planning on their next move ahead of the 2023 general elections.
There are claims that Governor Wike's camp is not pleased because of some of these reasons:
1. Atiku's foreclosure of the removal of the National Chairman of PDP,  Iyorchia Ayu, on the pages of newspapers without putting Wike's camp in confidence.
2. Atiku's refusal to return to Wike's camp on his position after his three-man team met with the governor's representatives in Port Harcourt.
3. Lack of inclusion of the South in the affairs of PDP.
4. The alleged cosmetic choice of a former President of the Senate, Adolphus Wabara, as the Chairman of the Board of Trustees of PDP.
5. Wike's camp felt insulted by the appointment of Governor Aminu Waziri Tambuwal as the Director-General of the PDP Presidential Campaign Council.
Another source that spoke with the newspaper disclosed that Atiku has not given up on attracting Wike before the election.
This article was originally published on Naija News