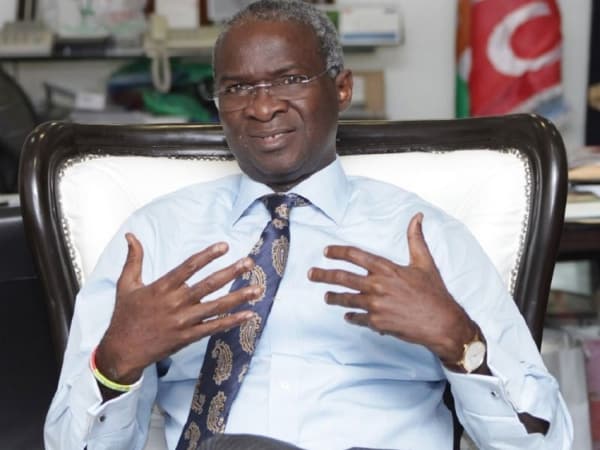 The Federal Government has assured residents of Osun and Oyo States that major roads and bridges under construction in the states would be ready soon for commuters to ply on.
The government gave the assurance in a statement over the weekend by Minister of Works and Housing, Babatunde Fashola, Naija News reports.
Fashola, while inspecting some federal projects in the Southwest states, charged local contractors to improve the quality of their delivery of projects or risk losing contract opportunities to the government.
According to him, the government was ready to give opportunities to the contractors but would not compromise on its standard.
Fashola in the statement signed by his director of press and public relations, Blessing Lere-Adams, said: "I have pointed out some areas where I think our local contractors can improve upon.
"They are not structural but aesthetic. So far, so good, the standard has not been compromised but to have some equipment for smooth finishing on some concrete works, they just have to improve.
"However, Mr President is committed to engaging local contractors. That is the purpose for Executive Order No.7, i.e. Local Content and Contractor participation on Road Infrastructure Development."
In his admonition, the Minister appealed to commuters not to abuse the roads when they are ready for use. The former governor of Lagos State also charged them to maintain road speed limits when the roads are completed.
During the inspection tour of rehabilitation of outstanding sections of Iseyin- Okeho Road including two bridges in Oyo State, Fashola assured the local contractor handling the road, Messrs. HMF Construction Ltd that when the 2023 budget and 2022 Sukuk are being considered, the government would be able to accommodate the N4billion needed by the contractor to complete the remaining part of the construction works on the road.
The minister charged Messrs Kopek Construction Company, on the reconstruction of Ibadan–Ife-Ilesha Dual Carriageway in Oyo /Osun states not to stop work and to make some sections of the road motorable during the ember months.
Speaking on the ongoing dualisation of Oyo–Ogbomosho road, the Minister said: "Relief will soon come the way of the road users, though the rainy season has slowed down the construction works on the project, the earthworks will improve as soon as the rains subside."
According to him, the dualization of the road is being funded through Sukuk and the NNPC Tax Credit Scheme for Roads, therefore, there wouldn't be a funding challenge in delivering the road.
This article was originally published on Naija News