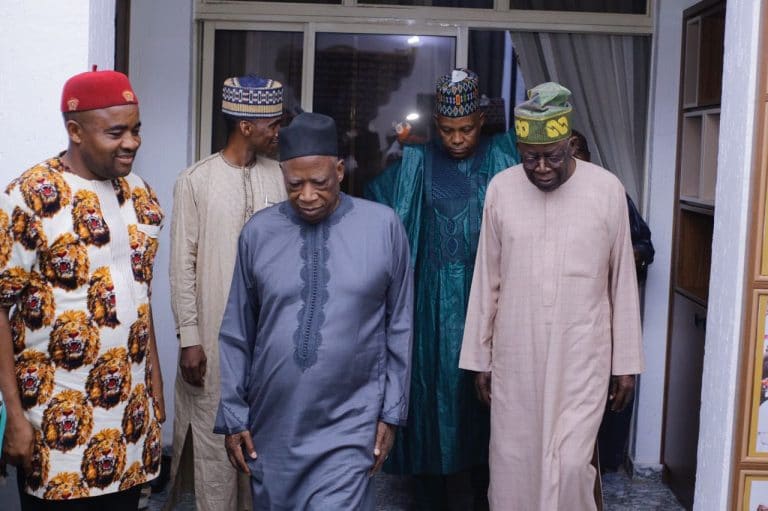 Details have emerged revealing that the National Chairman of the All Progressives Congress (APC), Abdullahi Adamu, is currently facing a tough battle to keep his job as the leader of the ruling party.
This is coming as the APC battles an internal crisis that has resulted in its failure to hold the National Executive Council (NEC) meeting and ratify the campaign council list of its presidential candidate, Bola Tinubu, days before the official kickoff of political campaigns.
It was also gathered that some APC presidential aspirants have refused to endorse the presidential ambition of its presidential candidate, Tinubu.
APC NEC Meeting
With many stakeholders of the APC expressing concern that the party is still yet to put its house in order, many have slammed President Muhammadu Buhari over his decision to leave for the United States of America, to attend the United Nations General Assembly function.
Sources in the ruling APC accused Senator Abdullahi Adamu, who is expected to consult with President Buhari and announce a date for the NEC meeting, of foot-dragging.
"Adamu is perturbed that governors and other organs of the party could force him to resign during the NEC meeting, to pave the way for a Christian national chairman," a source told Daily Sun.
Though the source refused to reveal if Tinubu has changed his mind on plans to oust Adamu, the source disclosed that last week's discreet meeting between Tinubu and members of the National Working Committee (NWC)-led by the APC Chairman was part of moves to build a support base for his seat.
He said: "We are running against time. Campaigns are about to start and the APC is yet to put its house in order. Adamu who should be at the forefront of leading a serious reconciliation is busy fighting to remain in office.
"Since the emergence of Tinubu, APC has been in one form of trouble or another. There is no single former presidential aspirant who has openly endorsed Tinubu. Even governors who supported him during the primaries are laid back. Many of them are secretly working for Atiku. We know. At least, NEC meeting will resolve these crises. APC needs a united house to go into this election."
What Rift?
Speaking on the alleged internal crisis rocking the ruling party, the National Publicity Secretary of the APC, Felix Morka told Daily Sun: "APC has not set a day for its NEC meeting. When that is announced, we will definitely make it public. For now, no date has been determined for the NEC of the party to meet at this time.
"What rift between Tinubu and other presidential aspirants? There is no rift to be characterized as such between Tinubu and other aspirants. There is no rift to discuss. Like other parties, everyone is entitled to hold an opinion, that's the nature of our democracy.
"I'm not aware that former presidential aspirants are not supporting Tinubu. As far as we know, they're behind Tinubu. You saw Ahmad Lawan speak in Gombe State talking about Tinubu? What is there to give you the impression that they're not supporting Tinubu?"
He also dismissed claims that Vice President Yemi Osinbajo and other former presidential aspirants were still aggrieved.
"Campaigns haven't started, INEC has not lifted the ban on campaigns. To suggest that senior members of APC are not campaigning is not true. Vice President Yemi Osinbajo is a busy man.
"There is no rift. All the aspirants are fully committed and we will win the elections next year," he said.
This article was originally published on Naija News